Our program contributes to emerging research examining the systemic barriers to the full societal inclusion of persons with disabilities.
The Graduate Program in Critical Disability Studies offers courses, research and professional training leading to an MA and PhD.
The MA program takes an interdisciplinary approach informed by various academic fields including law, anthropology, health studies, history, geography, economics, education, labour studies, political science, social work, sociology, identity politics, gender studies, and refugee and immigration studies. Theories of human rights form the basis for understanding how existing legal, economic and social rationales for inclusion relate to systemic barriers and oppression.
The program is offered full or part-time to students from a variety of backgrounds, including persons with disabilities engaged in the disability rights movement, government bureaucrats, professionals in the field of disability and people working in non-governmental organizations such as community organizations and advocacy groups.
You'll have the opportunity to attend refereed conferences, publish in refereed journals and produce op-ed pieces right from your first year.
The PhD, a pioneering program in Canada, offers a comprehensive curriculum covering major scholarly perspectives. It is offered on a full-time basis only.
The program structure and environment encourages advanced research, new scholarship and other opportunities to contribute to the field, enabling a multi-disciplinary group of students to explore disability from a critical perspective in relation to social policy, social justice, human rights issues, and social movements in Canada and internationally.
---
Important Dates, Deadlines & Upcoming Events

---
Current News & Announcements
The Centre for Feminist Research Indigenous Women's Speakers Series 
& the Faculty of Health Indigenous Lecture Series on Decolonising Health Present:
JOYCE GREEN SYMPOSIUM
THURSDAY, NOVEMBER 14, 2019 Co-organized by Drs. Elaine Coburn (International Studies, Glendon) and Sean Hillier (Health)
10-11AM: workshop
Open to graduate students and junior faculty; limited space available
York University – Keele Campus. You will receive your attendance confirmation from the CFR Coordinator via email
Click here to request to attend the workshop
1-3PM: Dr. Joyce Green keynote + Q&A
Enabling Reconciliation or Enabling Colonialism?
Transforming in Conditions of Colonialism and Ecological Crisis
The justification for depriving Indigenous peoples of land, resources, jurisdiction, sovereignty, and respect relies on racist ideology, theology and views of development, inevitability and superiority. In what is now called the settler state of Canada, the solution to the imposition and continuation of colonialism on Indigenous nations has been deceptively marketed as reconciliation - not decolonization.
The practice of colonialism has led to destructive approaches to the ecosystems in which we are all located. While the situation is dire for both Indigenous peoples and our climate, there is hope and transformation to be found in solidarities emerging across communities, countries, and generations.
Keynote information:
Light refreshments provided starting 12.45PM
Open to all. Second Student Centre, Second Floor Convention Hall.
York University – Keele Campus.
Directions:
Google Maps Directions to York University
York University campus map
Directions to the Second Student Centre from the York University subway station
Questions?
Please contact CFR Coordinator Julia Pyryeskina at juliapyr@yorku.ca.
About the speaker: 
Dr. Joyce Green is a Professor of Political Science at the University of Regina.
She has taught in the fields of Canadian politics, women and politics, and Native studies. Her research interests have focused on issues of decolonization in Canada, and of democracy in Canada. Most recently she has been preoccupied with the project of Indigenizing the university and with reconciliation problematics. Her published work has dealt with Indigenous-state relations; Indigenous feminism; citizenship, identity, and racism in Canada's political culture; Indigenous human rights and with reconciliation in Canada. She is the editor of Making Space for Indigenous Feminism (Fernwood Publishing and Zed Books, 2007; 2nd. ed 2017) and of Indivisible: Indigenous Human Rights (Fernwood Publishing 2014).
Dr. Green is of English, Ktunaxa, and Cree-Scottish Metis descent, and her family's experiences have provoked much of her scholarly and political work. She currently lives in ʔa·kiskaqⱡi?it, in ʔamak̓is Ktunaxa  (Cranbrook, B.C., in Ktunaxa territory).
 Event co-sponsors:
Department of Equity Studies, Faculty of Environmental Studies, Office of the Dean-Faculty of Graduate Studies, Graduate Program in Gender, Sexuality and Women's Studies, Graduate Program in Social and Political Thought, York Indigeneity in Teaching and Learning Fund-Office of the Vice Provost Academic, Glendon Indigenous Affairs Council.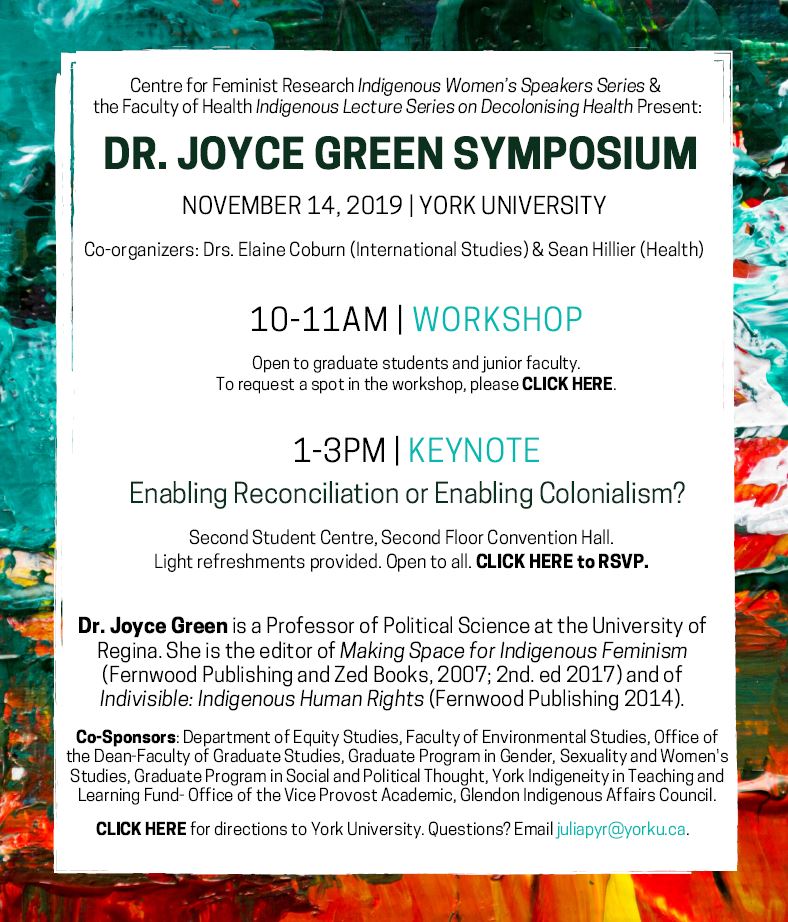 You are invited to the following Indigenous Lecture.  RSVP at https://www.eventbrite.ca/e/dr-joyce-green-symposium-tickets-78522628295
---
CDS cross-appointed faculty member Chris Chapman receives an LA&PS Emerging Research Award for their work in expanding Disability Studies research (unfortunately, they are mis-pronounced in the story).
---
On June 11, 2019 CDS faculty member Geoffrey Reaume presented a paper on Plaques, Politics and Preservation: Memorialising Psychiatric Patients'  Labour History at a conference on "The Material and Immaterial Heritage of Psychiatry", hosted by the Centre for Critical Heritage Studies,  University of Gothenburg, Gothenburg, Sweden.
---
2019 CDSA-ACÉH Student Paper Competition Winner
Congratulations to Patricia Ki, doctoral student in CDS, as this year's first place winner in the Canadian Disability Studies Association-Association Canadienne d'Études sur le Handicap (CDSA- ACÉH) Student Paper Competition for her paper, Defiant Bodies and Subversive Rage: A Gendered History of Borderline Personality Disorder.
The award was presented at the CDSA-ACÉH conference held at the Congress of the Social Sciences and Humanities in Vancouver, BC.
---
Why I'm proud to call myself an 'Aspergirl'
An op-ed by York University alumna Courtney Weaver (MA 2017 Critical Disability Studies) was published in CBC News May 31. Read full story.
---
Associate Professor Rachel da Silva Gorman was the "Albrecht Global Lecturer on Disability" at the University of Illinois at Chicago. Dr. da Silva Gorman gave an academic keynote and a community lecture, and participated in a panel, as well as graduate student and research meetings.
Photo taken after the community lecture at Access Living Chicago; left to right: Jim Charlton, Alyson Patsavas, Rachel da Silva Gorman, Tamar Heller, Carrie Sandahl.
---
Cross-appointed Associate Professor to the graduate program in Critical Disability Studies, Chris Chapman, from York's School of Social Work, and MA graduate student in Critical Disability Studies, A.J. Withers recently spoke at the book launch A Violent History of Benevolence.
(Right to left: co-author Chris Chapman, panelist Ed Wong, and conference co-organizer Kuir).
---
PhD Candidate in Critical Disability Studies, Evelyn Kissi (second from right in photo below) part of panel leading Community Conversation titled "Black Continental Africans in Canada: Black & Black African Diaspora Relations."
---
Congratulations to PhD candidate Yvonne Simpson who received the Teaching Assistant Award at a public event marking the Student Accessibility Services' Faculty and Staff Appreciation Day event.
Yvonne was recognized for her outstanding pedagogy, advocacy, and commitment to an inclusive university for students with disabilities.
---
PhD candidate Natalie Spagnuolo is currently co-directing a documentary film and workshop series with institutional survivors. This project received funding through the Huronia Class Action Lawsuit after being selected by a committee that included survivors of Ontario's institutions for people labeled with intellectual disabilities.
---
(Photo Credit B. Anne Jackson - From left to right: Cameron Wells, host of Hand-Link; graduate students Ann Jackson, Sukaina Dada, Scott White, Russell Rozinskis; Professor Marcia Rioux; graduate student Michelle Shelley)
Several graduate students and Professor Emerita Marcia Rioux in the Critical Disability Studies graduate program were interviewed about the graduate program for an upcoming broadcast on Handi-Link, hosted by Cameron Wells. Several Handi-Link episodes can be found in the Social Media section of our Critical Disability Studies website.
---
Recent Publications & Awards
Congratulations to Madeline Burghardt, PhD graduate and former professor in the Critical Disability Studies graduate program on her new book Broken.
---
Jackson, Kim & davis halifax, v. (2018). Service restriction: making homelessness harder. In Michelle Owen, Janice Ristock, Diane Hiebert-Murphy (Eds.) Not a new problem: Violence in the lives of women with disabilities. Fernwood.
davis halifax, v. (2018) "    :     a charm" and "uncalculable." poetry. Room, 41:4: 20-21, 105.
---
CDS PhD candidate, Natalie Spagnuolo also has a chapter in the Owens book co-written with Josée Boulanger: An "Unconscious Terrain of Habits": Structural Violence Against Women Who Labelled with Intellectual Disabilities.
---
Congratulations to Associate Professor Geoffrey Reaume in Critical Disability Studies, School of Health Policy & Management for recent publications:

The Place of Mad People and Disabled People in Canadian Historiography: Surveys, Biographies, and Specialized Fields
Posthumous Exploitation? The Ethics of Researching, Writing and Being Accountable as a Disability Historian (No link available)
Book review of Theodore Jun Yoo: It's Madness: The Politics of Mental Health in Colonial Korea
---
Congratulations to Associate Professor and former Graduate Program Director in Critical Disability Studies, nancy viva davis halifax, and previous graduate student in Critical Disability Studies, Jen Rinaldi (PhD 2013), along with co-authors David Fancy, Kate Rossiter and Alex Tigchelaar for their publication Recounting Huronia Faithfully: Attenuating Our Methodology to the "Fabulation" of Truths-Telling
---
QuickLinks
---
Related Links